No Breakout Elixir Oil + Rich in Linoleic Acid (Omega 6)
Regular price
45,00 €
Sale price
Rating: 4.41 out of 5.0
On-site pickup currently not available
FOR WHOM?
Suitable for all skin types, recommended for sensitive skin.
WHY DO WE LOVE IT?
Recommended for mixed to oily skin

No hemp smell or aroma

Silicone free

Vegan - Made in Switzerland

Organic ingredients

6% CBD
INGREDIENTS LIST
INGREDIENTS:HEMP OIL, EVENING PRIMROSE OIL, SAFFLOWER OIL, TEA TREE OIL, HEMP EXTRACT (CH)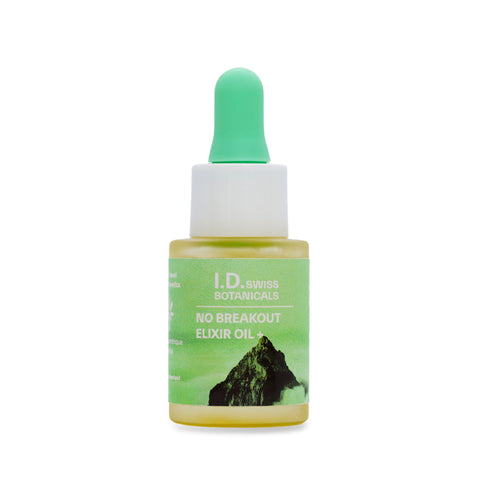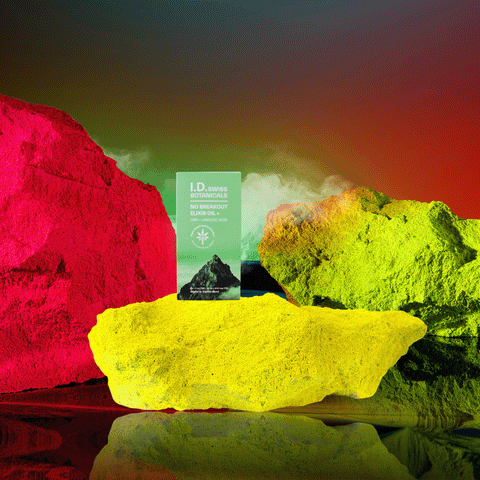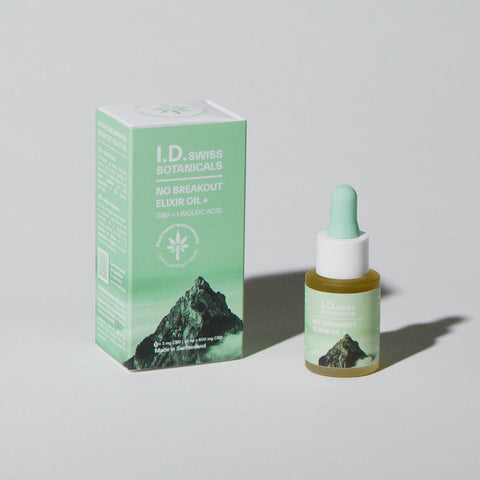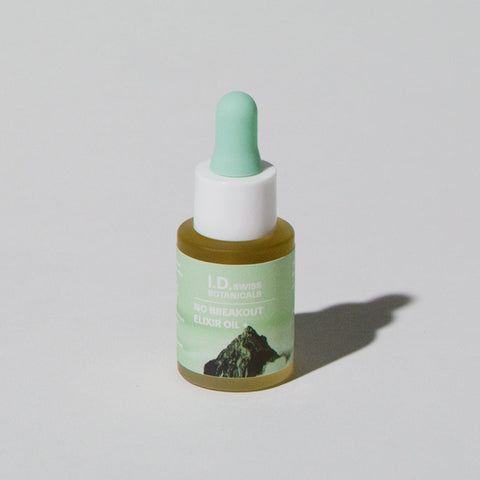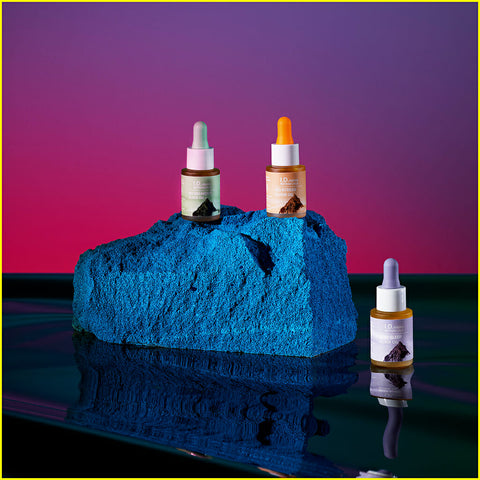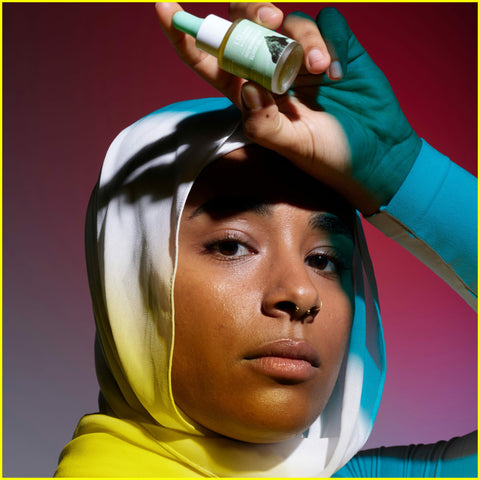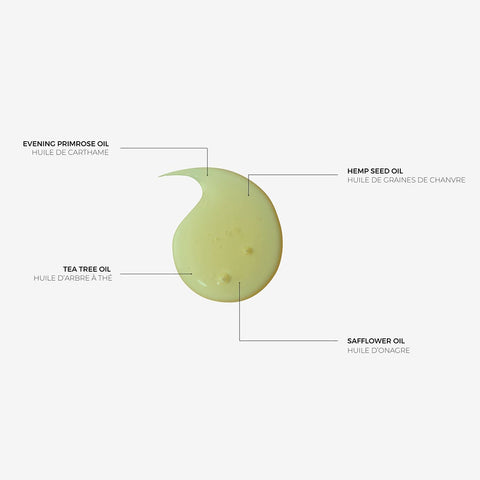 Discover our " BRAIN TO SKIN " range with our No Breakout Elixir Oil +. A neurocosmetic innovation for a hybrid use. Prevent imperfections (pimples, blackheads, redness) with this formula to be applied locally or consumed as a sublingual oil. Formulated with 100% natural ingredients.
Available in pack of 3 (-15%).
10 ml = 600 mg CBD
Tested under dermatological control
BENEFITS
Rested skin

Safflower Oil: Known as the "4,000 year old herb", safflower oil has a high concentration of linoleic acid - nearly 78%. This helps fight blemishes and improve skin tone.
Sebum regulator

Evening Primrose Oil: Evening primrose oil consists of approximately 70-74% linoleic acid and 8-10% gamma-linoleic acid. Evening primrose oil promotes skin balance and helps regulate sebum production.
Anti-Inflammatory

Tea tree oil: Mainly known for its anti-bacterial properties, tea tree oil reduces inflammation, helps the aesthetic healing of skin lesions and acts on brown spots.
Why CBD?
Plumped skin effect / anti-slackening
CBD prevents the disruption of collagen fibers that work against sagging skin. It allows your skin to be smooth and plump.
Boosts cell regeneration
CBD is associated with the proliferation of keratinocytes (cells of the epidermis); it allows the skin to regenerate. In addition, it promotes tissue repair during wound healing.
Neurocosmetics
CBD accesses our endocannabinoid system, which influences a wide variety of physiological processes throughout the body. It helps coordinate messages between the body and the brain. A "healthy mind in a [healthy skin]".
Regulation of the micobiome
CBD helps regulate the skin's microbiome, composed of microorganisms, playing a key role in its protection.
Reviews
Skin Concern:
Acne, Dark spots, Sensitivity, Dryness
Effects:
Skin repairing , Calming and soothing , Moisturizing, Natural scent
breakout elixir oil + from i.d. swiss botanicals
A non-greasy CBD-based hybrid oil that can be used as a skin care or sublingual treatment that targets breakouts and other blemishes to rebalance combination skin.
All skin types, but especially combination to oily skin with minor blemishes or acne.
Acts on the internal circulation and epidermis to target breakouts and rebalance the skin
This oil contains 100% naturally derived ingredients that promote sebum regulation and cell regeneration to fight blemishes
It works both as a sublingual oil and as a serum to be applied on the face
Skin Concern:
Acne, Large Pores, Fine Lines & Wrinkles
Disappointed
I was disappointed with this product. I have not noticed any improvement in my skin after several weeks of use. I still have as many blackheads and pimples as before (variable depending on my cycle).
I used it as an internal skin care starting, as indicated, with 5 drops per dose (1 morning and 1 evening) then gradually increasing.
The taste, without being pleasant, is not disturbing. I also used it as an external skin care by applying it directly on the areas to be treated every night. The smell is rather pleasant.
We appreciate your feedback on the No Breakout Elixir and are sorry that you did not have an improvement on your blackheads. Our product team works very hard to ensure that our products effectively improve all skin types but in some cases our active ingredients do not affect the individual makeup of some people. Our Neurocosmetics products are herbal and target an improvement in sleep quality and stress levels, as these two factors have a direct effect on skin health. Please consider external factors, such as diet, pollution, stress levels of the past weeks and see if they could have an impact on your skin. Do not hesitate to contact us by email at friends@idswissbotanicals.com for any further information. Thank you very much and happy new year
The I.D. Swiss Botanicals team
Skin Concern:
Sensitivity, Fine Lines & Wrinkles
Effects:
Skin repairing , Calming and soothing , Fast absorption, Moisturizing, Natural scent, Brighter Complexion, Clearer Skin, Even Toned Skin
No Breakout Elixir Oil
MY ADVICE OF USE A SOLUTION TO APPLY IN CREAM OR TO CONSUME IN SUBLINGUAL OIL. SUITABLE FOR ALL SKIN TYPES PRESENTATION AND PACKAGING THE PACKAGING IS TOO ATTRACTIVE WITH COLORS OF NATURE. THE SWISS I.D TREATS AND PREVENTS SKIN IMPERFECTIONS. AFTER THE FIRST FEW DAYS OF USE, I FELT THAT MY SKIN BECAME TOO SOFT, CLEAN AND WELL REFRESHED. EFFECTIVENESS THE PRODUCT IS MYSTERIOUS BECAUSE OF ITS MYSTERIOUS COMPOSITION? !!!! IT ACTS ON OUR EPIDERMIS FROM THE INSIDE BY TARGETING SKIN ERUPTIONS AND REBALANCING OUR SKIN. ITS COMPOSITION IS TOO RICH IN NATURAL INGREDIENTS : WITH 5 ESSENTIAL OILS, MAINLY IN HEMP OIL. WITHOUT TASTE OR SMELL OF HEMP CBD LINOLEIC ACID.
Skin Concern:
Acne, Uneven Texture, Dark spots, Hyperpigmentation
Effects:
Calming and soothing , Moisturizing, Natural scent
Very good product
The case gives a luxurious presentation to the product, and contains all the essential information for its use.
The product is very easy to use thanks to the dropper, and penetrates the skin quickly. Upon application, one feels an immediate soothing sensation, and the smell is also very relaxing. For my part, I found the product very effective in removing my small imperfections, without drying out or making my skin oily.
Skin Concern:
Large Pores
Effects:
Skin repairing , Fast absorption, Brighter Complexion, Clearer Skin, Even Toned Skin
A very nice discovery
I highly recommend this product for combination to oily skin! It rebalances the skin by reducing excess sebum and reducing blackheads on the face. The packaging is very pretty with a majority of green, it makes you think of nature. Moreover, the addition of the pipette is very useful and practical to use the product. As for the smell, I don't mind it although it is pronounced, personally I find it smells good.