CBD Oil - No Stress Elixir
Regular price
39,00 €
Sale price
Rating: 4.37 out of 5.0
On-site pickup currently not available
WHY DO WE LOVE IT?
Formulated with 100% natural ingredients

CBD 6% + Organic Cinnamon Oil + Organic Rapeseed Oil + Organic Mint Oil

Vegan - Made in Switzerland
No hemp smell or aroma
INGREDIENTS LIST
INGREDIENTS:ORGANIC RAPESEED OIL(CH), ORGANIC PEPPERMINT OIL, ORGANIC CINNAMON OIL, HEMP EXTRACT(CH)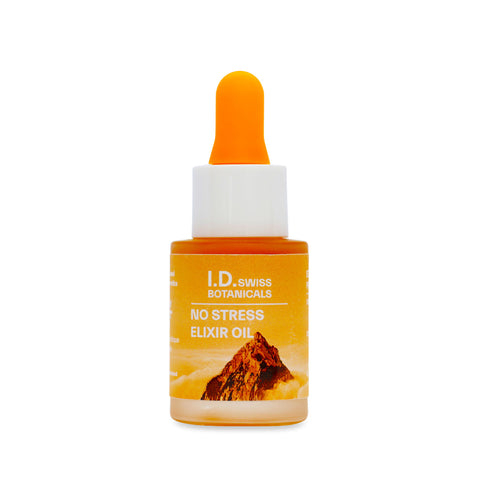 Discover our line "BRAIN TO SKIN". Stress is a common source of a variety of skin conditions and dysfunctions, including dehydration, inflammation and breakouts. Reduce your stress levels for healthier skin with our No Stress Elixir, a powerful botanical oil based on the stress regulating virtues of CBD, cultivated on the shores of Lake Geneva.
Available in pack of 3 (-15%).
10 ml = 600 mg CBD
Directions for use: to be taken orally 
BENEFITS
Rested skin

Organic rapeseed oil: Rich in vitamin E and Omega 3, rapeseed oil has antioxidant properties for a radiant skin.
Improved general well-being

Organic cinnamon oil: Widely used in aromatherapy or to flavor foods, cinnamon oil also has a reputation as a nerve calming agent.
Natural Swiss CBD: (0% THC, 6% CBD)

We cultivate our cannabis in an indoor plantation, on the edges of the Lake Geneva. It is in this natural environment that agriculture and technology meet to offer you a high quality CBD.
Why CBD?
Plumped skin effect / anti-slackening
CBD prevents the disruption of collagen fibers that work against sagging skin. It allows your skin to be smooth and plump.
Boosts cell regeneration
CBD is associated with the proliferation of keratinocytes (cells of the epidermis); it allows the skin to regenerate. In addition, it promotes tissue repair during wound healing.
Neurocosmetics
CBD accesses our endocannabinoid system, which influences a wide variety of physiological processes throughout the body. It helps coordinate messages between the body and the brain. A "healthy mind in a [healthy skin]".
Regulation of the micobiome
CBD helps regulate the skin's microbiome, composed of microorganisms, playing a key role in its protection.
Skin Concern:
Fine Lines & Wrinkles, Dryness
Effects:
Calming and soothing , Moisturizing
easy to use
A simple oil to use, pleasant to use, my skin loved it ;-) I highly recommend it...
Skin Concern:
Uneven Texture
Effects:
Calming and soothing , Brighter Complexion
I tested the NO STRESS CBD ELIXIR
a very practical sliding cardboard packaging, in a pastel orange color that evokes well-being and serenity,
simple use with the glass dropper bottle,
particular odor, makes me think of the encaustic...
the dosage is simple, one drop is enough, 2 takes per day,
it can be personalized by increasing the number of drops according to its needs and problems,
As for the effectiveness, being stressed and anxious, this product suits me perfectly,
but it is a pity that there are no instructions for use with more information on the use and the undesirable effects of the product
helps to relax, to manage stress and anxiety
Skin Type:
Dry, Sensitive
Skin Concern:
Sensitivity
Effects:
Calming and soothing
An easier sleep.
MY ADVICE OF USE To use 2 times per day by increasing of a drop per week if necessary. PRESENTATION AND PACKAGING Pretty packaging apricot, a small glass bottle with a pipette very effective to count the drops, all in a small box. EFFECTIVENESS I find that I fall asleep more easily but for the moment I have not noticed any improvement on my skin with imperfections.
Skin Concern:
Sensitivity, Ageing, Fine Lines & Wrinkles
Effects:
Calming and soothing
Reviews
Very good relaxing effects and better quality sleep, for the effects on the skin, I think it is necessary to make a cure over several months
Skin Type:
Dry, Sensitive
Skin Concern:
Uneven Texture, Ageing, Fine Lines & Wrinkles, Dryness
Effects:
Skin repairing , Moisturizing, Even Toned Skin
Very good
Good product that meets my expectations.