CBD Oil - Deep Sleep Elixir
Regular price
54,00 €
Sale price
Rating: 4.57 out of 5.0
On-site pickup currently not available
WHY DO WE LOVE IT?
Formulated with 100% natural ingredients

CBD 10% + Organic Cinnamon Oil + Organic Rapeseed Oil + Organic Mint Oil

Vegan - Made in Switzerland
No hemp smell or aroma
INGREDIENTS LIST
INGREDIENTS:ORGANIC RAPESEED OIL(CH), ORGANIC PEPPERMINT OIL, ORGANIC CINNAMON OIL, HEMP EXTRACT(CH)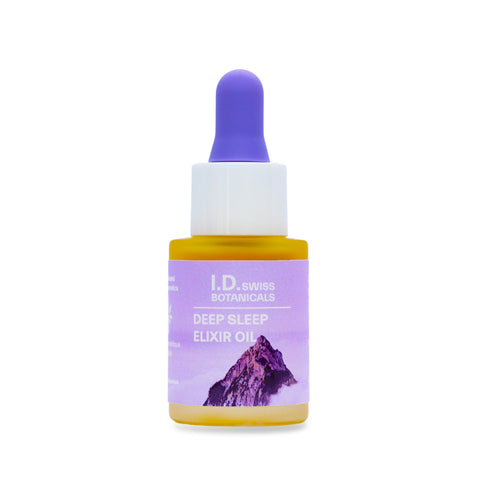 Discover our "BRAIN TO SKIN" line . Numerous studies have shown that sleep quality has a positive impact on skin hydration and cell regeneration. Improve the quality of your sleep to obtain a healthier, hydrated and regenerated skin thanks to our Deep Sleep Elixir botanical oil with very powerful CBD grown on the 

shores

 of Lake Geneva.
Available in pack of 3 (-15%).
10 ml = 1000 mg CBD
Directions for use :
to be taken orally
BENEFITS
Rested skin

Organic rapeseed oil: Rich in vitamin E and Omega 3, rapeseed oil has antioxidant properties for a radiant skin.
Soothes & Improves sleep quality

Organic cinnamon oil: Widely used in aromatherapy or to flavor foods, cinnamon oil also has a reputation as a nerve calming agent.
Natural Swiss CBD: (0% THC, 10% CBD)

We cultivate our cannabis in an indoor plantation, on the edges of the Lake Geneva. It is in this natural environment that agriculture and technology meet to offer you a high quality CBD.
Why CBD?
Plumped skin effect / anti-slackening
CBD prevents the disruption of collagen fibers that work against sagging skin. It allows your skin to be smooth and plump.
Boosts cell regeneration
CBD is associated with the proliferation of keratinocytes (cells of the epidermis); it allows the skin to regenerate. In addition, it promotes tissue repair during wound healing.
Neurocosmetics
CBD accesses our endocannabinoid system, which influences a wide variety of physiological processes throughout the body. It helps coordinate messages between the body and the brain. A "healthy mind in a [healthy skin]".
Regulation of the micobiome
CBD helps regulate the skin's microbiome, composed of microorganisms, playing a key role in its protection.
Skin Concern:
Fine Lines & Wrinkles, Dryness
Effects:
Calming and soothing
Very surprised and very satisfied
my advice of use
Personally, I used to take about ten drops in the evening directly on my tongue.
For my partner it was a few drops on the tongue when he felt the need.
Presentation and packaging
Very design and aesthetic.
The purple and white colors are very nice and make you want to buy or discover the product.
And the glass bottle is just great and classy.
Congratulations to the designer.
Efficiency
The use with the drop system is very practical.
Personally the product was effective in the case of my spouse when he felt stressed and on me for my insomnia I managed to feel more calm at the time of sleeping.
I recommend it without any worries.
Skin Concern:
Acne, Hyperpigmentation, Fine Lines & Wrinkles
Effects:
Calming and soothing , Fast absorption, Moisturizing, Brighter Complexion, Even Toned Skin
Efficient,
I loved the packaging, beautiful color, very eye-catching and quality, the bottle is also solid with the pipette is hygienic, simple to use for the right dose of products
The box is easily stored the bottle, very practical with all the detailed information
I have trouble sleeping for long periods of time because of stress as well as lifestyle habits. I really have used many therapies but sometimes I am afraid of addiction and affecting my health. First of all, I am extremely impressed with the scent of cinnamon, mint as well as lavender, it helps me feel relaxed immediately. I started using this product with 3 drops and after about 10 to 15 minutes after 9pm, I felt a relaxation of my whole body. I also did yoga and listened to meditation music and a little essential oil for the room to increase the effectiveness. During the first week of use, my sleep has changed. I fall asleep more easily and wake up less at night. By the second week, I started increasing the dosage to 5 drops. It helps me fight my stress more effectively. I also sleep better and more than 6 hours a day and do not wake up at night anymore. I am more awake and motivated in the morning. As a result, my face is also more radiant and less tired, I think my complexion and my general condition are improving.
Little advice: Respect the doses, and increase gradually. Listen to and feel the changes in your body to get the right dose. Do not worry too much or expect an immediate effect from the first use if you suffer from prolonged insomnia
Skin Concern:
Acne, Uneven Texture, Dark spots, Hyperpigmentation, Ageing, Fine Lines & Wrinkles
Effects:
Fast absorption, Moisturizing, Brighter Complexion
Relaxing
The product allowed me to relax completely before bedtime, it was not an exceptional transformation but I am more zen at bedtime
Skin Concern:
Acne, Large Pores, Ageing
Effects:
Fast absorption, Natural scent
Calm during the day
I found that these drops calmed me down during the day, that I was less stressed. However, they did not help me fall asleep. I should mention that I usually take a sedative to fall asleep.
I liked the mint-cinnamon flavor.
Skin Concern:
Dark spots, Sensitivity, Fine Lines & Wrinkles
Effects:
Calming and soothing , Natural scent, Brighter Complexion
A moment of relaxation
A practical bottle, with a pipette to dose the drops, the packaging is an invitation to rest, an elixir with a taste of cinnamon, for me I find it comforting. Adapt well the doses, go gradually. For my part I started with 5 drops and I went up to 15. The product relaxed me well and helped me to have a more peaceful sleep. The features of my face when I wake up are more relaxed.